Politics and Insights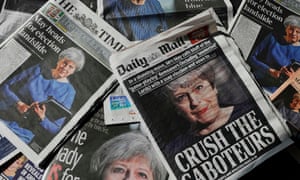 In George Orwell's Nineteen Eighty-Four, Winston Smith invents the heroic historical figure Comrade Ogilvy, who had "no aim in life except the defeat of the Eurasian enemy and the hunting-down of spies, saboteurs, thought-criminals, and traitors generally". Theresa May's world, too, seems to have shrunk to one in which the greatest enemies are the enemies within and democracy must be democratically eliminated for the good of the people." Steven Poole.
The Daily Mail headline calling those who oppose the government "saboteurs" is the kind of oppressive tactic and despotic language that is commonly used in totalitarian regimes and by dictators. It's not the kind of media headline expected in liberal democracies, where opposition to the status quo is necessary for the best interests of the country and essential for any meaningful democratic exchange.
Dr. Lawrence Britt examined the fascist regimes of Hitler (Germany), Mussolini (Italy), Franco (Spain), Suharto (Indonesia) and several…
View original post 6,067 more words